CHUBB INSURANCE
WALLFLOWER NO MORE
The Market For Antique Frames Blossoms
By Alan Montgomery, November 2014
As any true connoisseur knows, the perfect frame is a vital element for any picture. In fact, the world of framing is much more interesting and complex than most people might imagine. Perhaps the most little-known, esoteric sector of this world is the market for antique picture frames, a small but blossoming area in which enormous amounts of money sometimes change hands for the finest, rarest examples.
Having worked for a number of years in the art world, I have often seen important paintings—canvases which are both beautiful and valuable—stuck in the most unsuitable, sometimes downright ugly frames. Some owners of contemporary pieces which have recently shot up in value may have an excuse: that cheap clip-frame on their Banksy print may have been perfectly appropriate when they bought the work for next to nothing, but not so much now that it is worth something in the region of $10,000. Such frames not only do little for the work of art, they can also lead to conservation issues, or even serious damage. I have seen delicate canvases barely held into their frames with a couple of rusty nails, and wonderful works of art almost ruined by their unattractive surround.
Placing your picture in a different frame is a great way of bringing something personal to it, of stamping it with your own taste, and can often totally rejuvenate a long-neglected painting. Adding a handsome antique frame is perhaps the pinnacle of this process. When it comes to buying antique frames, the cheapest place to start is probably an auction, be it at a local auction house, or online. While a couple of international auctioneers, namely Sotheby's and Bonhams, sell collections from time to time, their interest in the antique frames market is limited. Some smaller companies, like Roseberry's in the suburbs of London, sell fairly large quantities of frames in their regular antique auctions, but these events are generally well-attended by picture dealers who snap up any useful frames and are not afraid to pay top prices. The larger online auction sites such as eBay, however, can be happy hunting grounds for amateur frame buyers, and it is not unusual to bag a bargain if you know what you are looking for; search for picture frames which have been converted into mirrors too; these can sometimes slip under the radar of other bidders. As ever, beware of mis-catalogued items, steer clear of anything in poor condition, and do a bit of research before you bid.
Ultimately, successful bidding and buying online require some knowledge, at least enough to recognize the authentic antique and avoid the poor quality copy, or to spot the all-important difference between original gilding and later gold paint. And although buying at auction is almost always the least expensive option, it can also be the most frustrating—after all, given the limited number of frames that go through sale, the chances of one appearing which not only fits, but also suits your picture can be slim. You will also need to use your imagination when buying online, and hope that the end match of picture and frame lives up to your expectations!
For those with a larger budget, a visit to an antique frame dealer can be a much more satisfying and rewarding experience. Most are located in major cities like London and New York, but some smaller operations can be found elsewhere in the U.S and Europe, particularly in Italy where antique frames are widely appreciated. Like anything, the quality and costs of the frames offered by these dealers can vary greatly, from the relatively affordable to the jaw-droppingly expensive. At one end of the spectrum, dealers like Lacy Gallery in London's Westbourne Grove or the Charles Daggett Gallery in nearby Notting Hill, offer an informal, friendly but knowledgeable service, both with stores packed full of beautiful antique frames. At the other end, dealers like Lowy in New York and Arnold Wiggins & Sons in London, both up and running for close on a century, stock only the finest antique frames that money can buy. These appointment-only establishments are patronised by top collectors and museums, and work with clients around the world. Somewhere in the middle are Gill & Lagodich, specialists in American frames, and Rollo Whately in London's smart Mayfair, both of which provide a wide array of frames at a range of prices.
So once you have made the decision to splash out on an antique frame for your prized painting, what can you expect from the dealers? Their main benefit in comparison to buying at auction is the large number of frames that they always keep in stock, which mean that they should be able to offer you a variety of appropriate frames for your picture. Any decent dealer will ask for details of the work needing framing, and make an appointment for you to bring it in if possible; placing your picture in a potential frame is, after all, the best way to make the final decision. While the chances of finding a frame that fits like a glove are almost non-existent, these dealers will be able to offer an alteration service to cut down, or sometimes even extend a frame to size. And since these guys are dealing with the Rolls-Royce of frames, any alteration will be done by skilled craftsmen, and will be as much as invisible to the naked eye. As for which frame looks good and is appropriate to your work of art, well that is very much up to you. Any good dealer will, however, be able to offer their advice, and show you a selection of frames which give diverse end results. For older paintings, the choice is fairly straightforward—a 16th-century Italian painting will look best in a frame from the same locality and period, as will an 18th-century English portrait. Some artists and styles are traditionally housed in specific types of frames; the habit of the (often penniless) young Impressionists for buying distressed 18th-century French frames at local flea markets means that such frames, which today are rare and much sought-after, are still often selected to hold these now valuable canvases. Picasso paintings, meanwhile, are often placed in 17th-century Spanish frames more usually found on the works of Velasquez or Murillo, imbuing them with an added gravitas and effectively positioning them as 'modern masters.' With more contemporary pictures, the possibilities are almost endless—I have seen a Glenn Brown painting placed in an exquisite Dutch 17th-century ebony frame, and an abstract Lucio Fontana canvas hung in a grand Italian 'cassetta' frame from the early 1600s. No matter how anachronistic such a match may seem, the elegance and weight that can emanate from a tastefully framed picture can often be astounding. Be warned; these beautiful antique frames, many of which are delicately hand-carved and gilded works of art in their own right, do not come cheap. At one of the less expensive dealers, you may be able to pick up something small from $150 or so, but for the fine and rare museum-quality examples mentioned above, you may be looking at anything between $10,000 and $100,000, and sometimes even more. But while 18th-century collectors were known to spend more on the frames than on the pictures that they housed, nowadays it seems reasonable to only spend what your painting merits. If an antique frame cannot be found, or your budget just will not stretch to it, many of these dealers also offer a service for producing top-quality hand-made reproductions modelled on the antique originals. And although these could hardly be described as cheap, considering the amount of work that goes into each frame and the quality of the product, it should be money well spent.
For now, the antique picture frame remains a rather neglected sector of the art and antique market. While a select few collectors and curators are aware of the benefits of choosing that perfect frame, many still see it as a needless expense. Good quality frames may cost more, but the results can often be astounding. For those wanting to find out more, books such as Frameworks: Form, Function and Ornament in European Frames by London dealer Paul Mitchell or New York-based Eli Wilner's The Gilded Edge: Art of the Frame both include numerous illustrations and lots of information on the history and development of the frame. Next time you are at an art museum, take a look past the canvas and check out the often elaborate surround. But beware; the world of antique frames is a fascinatingly enticing one, and the results that can be gained from spending the extra money on these frames are often breathtaking. Once you delve in, the chances are you will never look back.
See more at: http://accent.chubb.com/wallflower-no-more#sthash.QlFrcALT.dpuf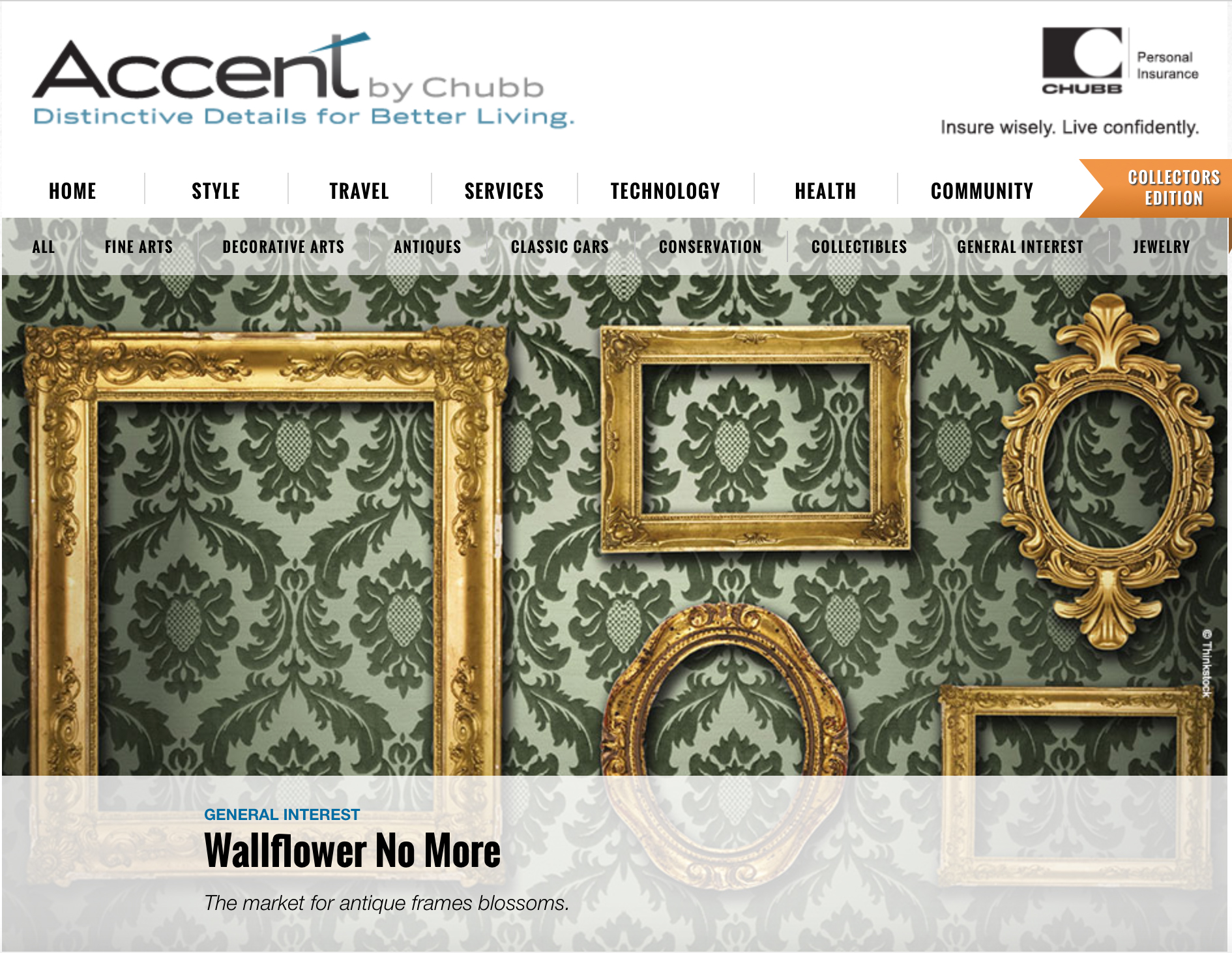 Italian 16th century
An Italian 16th-century ebonised and parcel gilt cassetta frame.