CAILLEBOTTE–CARLSEN–CEZANNE – CHARMY– CHASE–COLMAN–COOKE–COURBET–CRAWFORD–CROPSEY–CURRAN–CURRY
Please check this page again as we continue to update with more artists framed by Gill & Lagodich in both period and replica frames.
Artists are listed alphabetically.
PAUL CEZANNE (1839 – 1906)
Le Village de Gardanne, 1885-1886. oil and conté crayon on canvas, 36-1/4" x 28-13/16". Framed by Gill & Lagodich for the Brooklyn Museum. 16th-century Spanish frame; gilded hand-carved wood, cassetta profile with punched decoration, molding width 5-1/2" "Cézanne juxtaposes the blocky geometries of the townscape with the curling organic forms of rolling hills and vegetation. The shifting planes of the angular roofs and subtly shaded façades anticipate the experiments of the Cubists in the early twentieth century. Cézanne investigates tone as well as form, matching the warm ochers, oranges, and reds of the architecture with the cool, smoky blue-green of the foliage. An unfinished work with large visible expanses of a cream base coat, this picture provides insight into Cézanne's working process, with traces of graphite underdrawing and tentative squiggles of black paint." —Brooklyn Museum, Ella C. Woodward Memorial Fund and Alfred T. White Fund, 23.105
ÉMILIE CHARMY (1878–1974)
Self Portrait in an Open Dressing Gown, ca. 1916 - 1918, oil on canvas, 36-1/8 x 28-7/8 inches. Custom-made replica c. 1920 painting frame, silver-leaf over red bole, stepped Art Deco profile; molding width: 4-3/4 inches. Framed by Gill & Lagodich for The Fralin Museum of Art at The University of Virginia.
RALSTON CRAWFORD (1906–1978)
Red Barge No. 1, 1942, oil on canvas, 27-7/8" x 39-3/4". Framed by Gill & Lagodich in a custom-made variation of an early 20th-century American Modernist painting frame; simple, flat artist-made construction; painted wood, antiqued gesso, stone gray patina; molding width: 6" Museum of Fine Arts, Houston. Museum purchase funded by the John R. Eckel, Jr. Foundation.
JASPER FRANCIS CROPSEY (1823 – 1900)
Artist Sketching on Greenwood Lake, 1869, oil on canvas, 20" x 32-3/4" Framed by Gill & Lagodich, c. 1870s American Hudson River School painting frame; gilded applied composition ornament on wood; fluted ogee profile. Molding width: 6-1/4" Frances Lehman Loeb Art Center — Vassar College; Painting Gift of Georgia Potter Gosnell, class of 1951, and Elizabeth Gosnell Miller, Class of 1984; 2005.28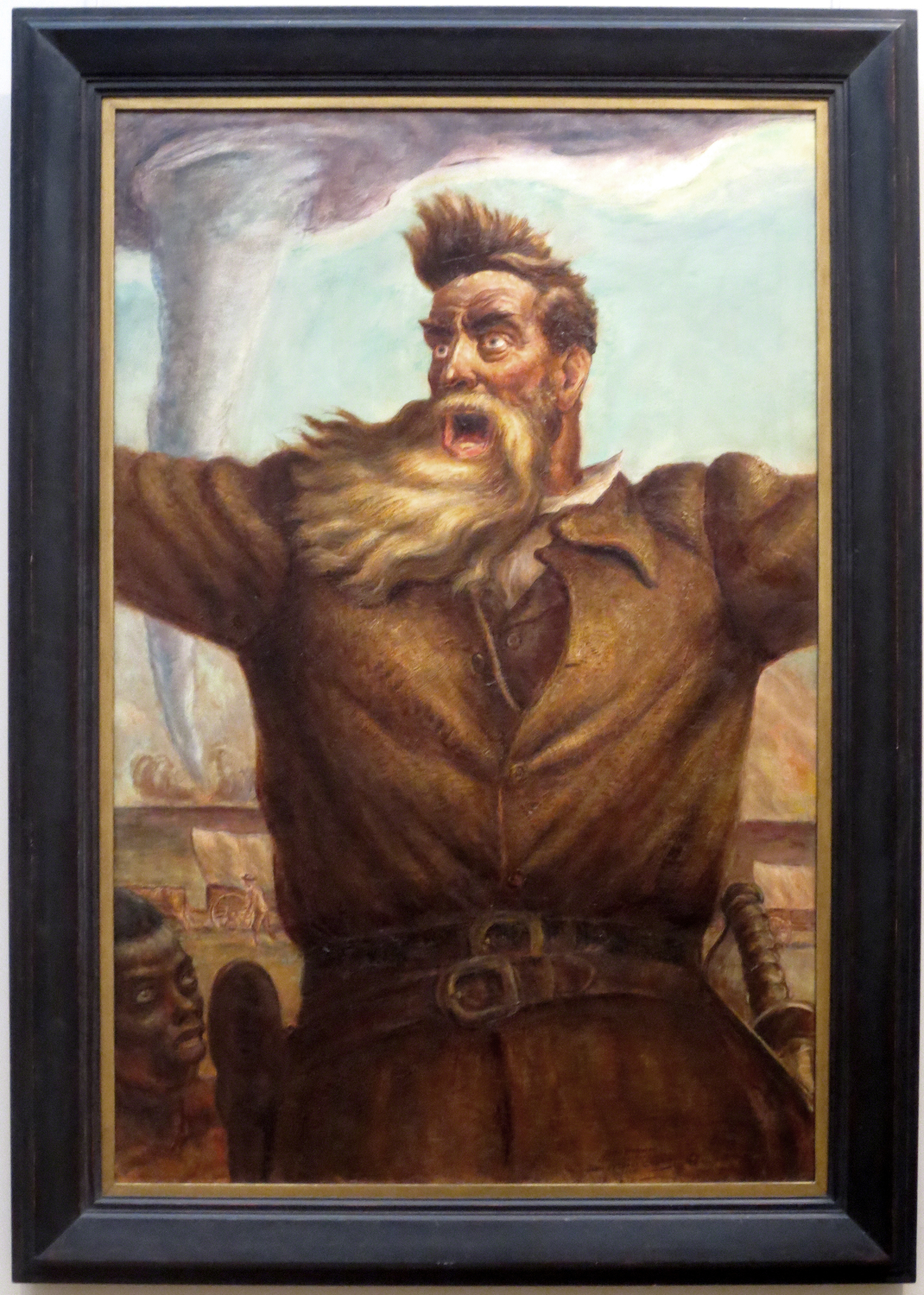 JOHN STEUART CURRY (1897–1946)
John Brown, 1939, oil on canvas, 69" x 45". © John Steuart Curry. Framed by Gill & Lagodich for the Metropolitan Museum. Custom-made replica, Early American molding frame, first-quarter-19th-century, beveled wood profile with worn ebonized patina and gilded flat liner. Molding width: 6-1/2" "Throughout the 1930s, Kansas-native Curry was closely associated with Benton as a member of the artistic movement known as Regionalism. John Brown reprises the subject of Curry's mural in the rotunda of the Kansas State Capitol. One of the most controversial figures in nineteenth-century American history, Brown opposed the extension of slavery in the 1850s into the Kansas Territory. Curry depicted Brown larger-than-life in an open, stark landscape besieged by a tornado—a meteorological symbol of the conflict—with a slave at his side. The abolitionist's crazed expression and animated hair and beard suggest the messianic fervor that fueled his opposition to human bondage." Arthur Hoppock Hearn Fund, 1950 (50.94.1) —Metropolitan Museum permanent collection label.