SCHIELE – SCHREYER – SISLEY – SKEELE - SLOAN - SLONEM – SONNTAG – SOROLLA – SPENCER – STERNE
Please check this page again as we continue to update with more artists framed by Gill & Lagodich in both period and replica frames.
Artists are listed alphabetically.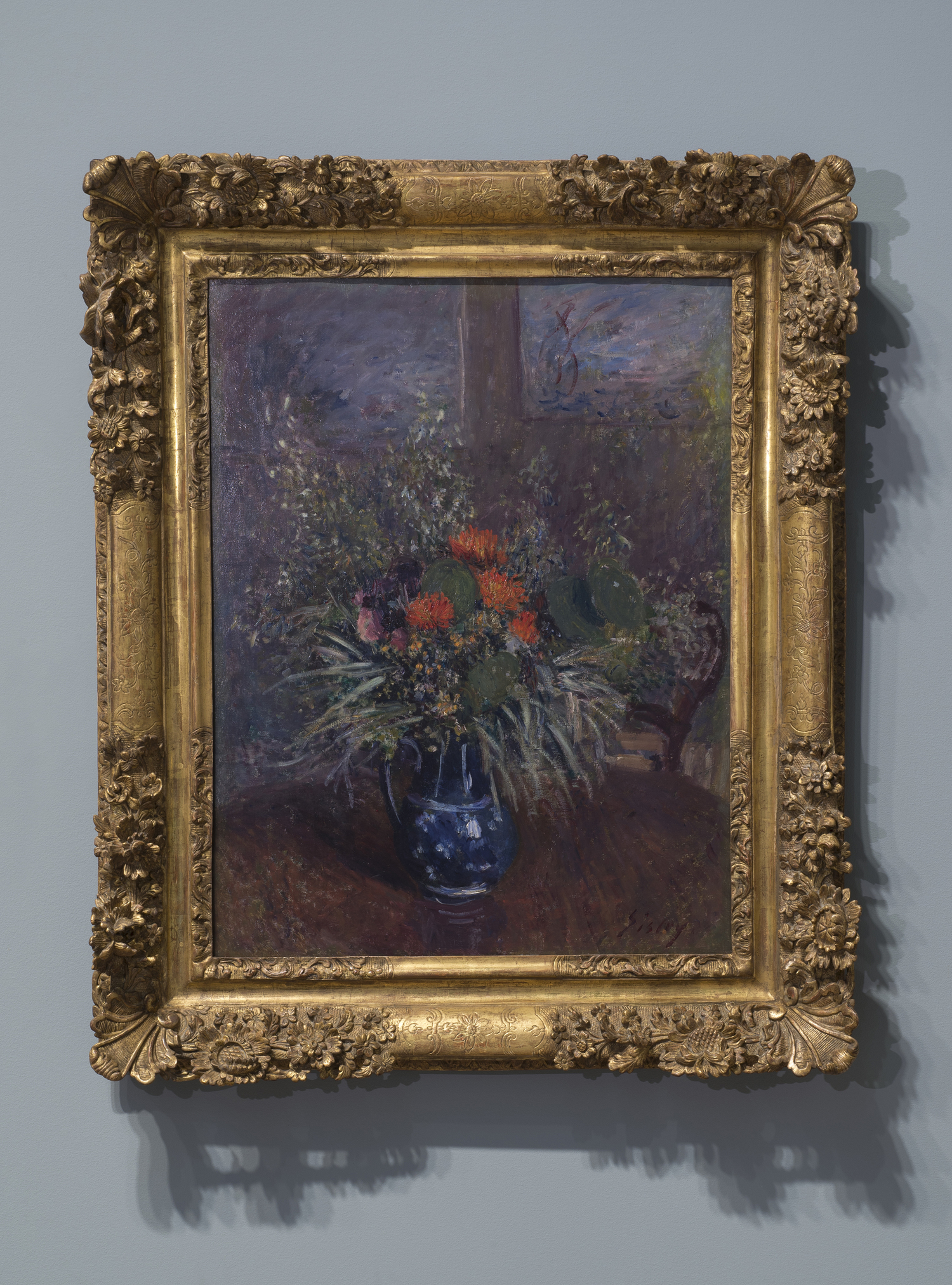 ALFRED SISLEY (1839–1899)
Wildflowers, c. 1875, oil on canvas, 25-3/4 x 19-7/8 inches. Virginia Museum of Fine Arts, Richmond, VA. Collection of Mr. and Mrs. Paul Mellon. Photo: David Stover. Framed by Gill & Lagodich, period 18th-century French Louis XIII painting frame; gilded hand carved wood, molding width: 4-1/4"
LILLY MARTIN SPENCER (1822 – 1902)
The Home Of The Red, White, And Blue, c. 1867 – 1868, oil on canvas, 24-1/8 x 30-1/8 inches. Framed by Gill & Lagodich for the Terra Foundation of American Art. c. 1850s-60s American painting frame; gilded applied composition ornament over wood. "With its acquisition of Lily Martin Spencer's Home of the Red, White, and Blue of about 1867, the Terra Foundation enhances its rich holdings in nineteenth-century genre painting and adds to the many works in the collection by women. The painting joins a group of works thematically related to the Civil War, including Frederic E. Church's Our Banner in the Sky, Winslow Homer's On Guard, and William Sydney Mount's Fruit Piece: Apples on Tin Cups. Spencer's scene of a family picnic combines national politics with the artist's favorite theme, the domestic gathering. Here, generations of family members are joined by several obvious outsiders in a metaphor for the gravely fractured nation at its crucial moment of reunification, symbolized by the tattered flag under repair in the foreground. Now considered one of the leading genre painters of the antebellum period, Spencer created narrative works in which women are uniquely central. Since her rediscovery beginning in 1974, scholars and art enthusiasts have come to value Spencer's images for the important insights they offer into middle-class domesticity, the cultural politics of gender roles, and the turbulent state of the American nation in the mid-nineteenth century. "Home of the Red, White, and Blue" is featured in the exhibition Home Front: Daily Life in the Civil War North, co-organized by the Terra Foundation and The Newberry, on view Sept. 27–Mar. 4, 2014."
http://www.gill-lagodich.com/past-projects/#/new-gallery-55/
MAURICE STERNE (1878–1957)
New Mexico Still Life, 1919, oil on board, 21" x 25" Custom-made replica of an early 20th-century American Arts and Crafts painting frame; Philip N. Yates, attr. PA maker; pale 18-karat-gold leaf over red bole on hand-carved wood. Gentle reverse profile, molding width: 5-5/8" Frame commissioned by the Petrie Institute of Western American Art, Denver Art Museum.
JOHN SLOAN (1871–1951)
Quaker Nell (Helen M. Taylor), 1916, oil on canvas, 24 x 20 inches, Framed by Gill & Lagodich for the High Museum of Art, Atlanta. PERIOD FRAME c. 1915-20 American Arts and Crafts/Ashcan painting frame; metal-gilded carved wood; cassetta profile; molding width: 3-1/2" Painting gift of Mr. and Mrs. Norman Hirschl.